Jackie Kennedy Dual Chain and Station Necklace by Camrose and Kross
Product Description
Given to Jackie on her birthday, July 28th, this necklace is based on a famous Chanel design.
This dual chain and station necklace has 20 Swarovski crystals. It is 27" and 34" long with a lobster claw clasp. The strands are detachable. THerefore you can wear one strand by itself or both of them together. The necklace is 24k gold plated.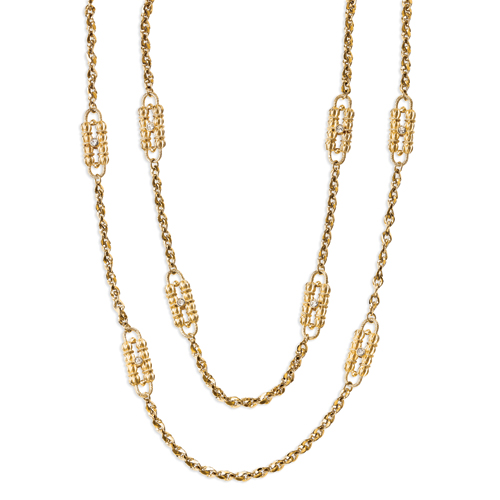 Comes in an gift boxed that is a velour-covered steel case. Included is a Camrose and Kross Certificate of authenticity. Also a romance card with some fascinating information about Jackie and her life.
Camrose and Kross has reproduced the Jacqueline Kennedy Collection as costume jewelry. All items are approved by the Kennedy Foundation to exclusively market the Kennedy Collection.. Most of the peices are white metal alloys electroplated in either 24k gold, rhodium or platinum. All rings are vermeil: pure sterling silver plated in 100 mils of 24k gold. All of the jewelry is guaranteed for life against defects in workmanship. This includes plating chipping or wearing, stones falling out or defective hardware and findings. Watches fall under the same warranty, except for their movements, which are guaranteed for 1 year.